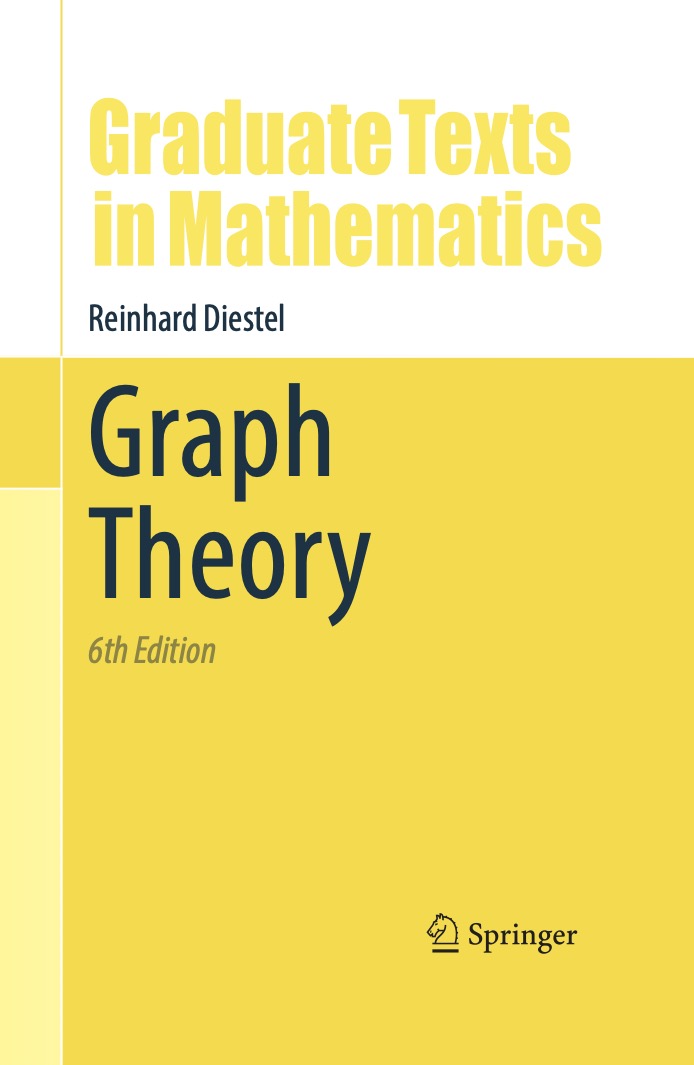 Graph Theory
GTM 173, 4th edition 2010

Corrected reprint 2012
---
Springer-Verlag, Heidelberg
Graduate Texts in Mathematics, Volume 173
ISBN 978-3-642-14278-9
July 2010 (2005, 2000, 1997)
451 pages; 125 figures
Separate web pages for translations: 中文 deutsch
---
About the Book:
---
Overview:
---
Electronic Editions (2012):



Free preview:
The main text of the book for free online viewing, with an exchange forum to post questions etc.
iOS app:
Free app for iPads, iPhones etc that can display all language editions as high-quality PDF. Individual chapters $0.99.
Price for the whole book varies by language. Free upgrades to future editions included, past editions are free too.
iBook:

For use with iPads, iPhones etc. with Apple's iBook app. English only.

Adobe eBook:
High-quality eBook that you can download to your computer, tablet or phone. To read it, you need the Bluefire Reader app on your device, or Adobe's Digital Editions eBook reader on your computer. (Both are free.) Printable, but no annotations.
Translations as Adobe eBooks: 中文, 日本語, русский, deutsch
Professional:

Fully featured, freely installable PDF for computers and tablets. Includes free upgrades to future editions.

Course Notes:
Same as the professional edition, but with a licence to print and distribute class notes.
Sample chapter for eBook and Professional edition: right-click to download, and view with any PDF reader.

All Prices


---
Errata:
---
How to Order the Print Edition:
---
Further Reading
Author's home page

Powered by
Lahno
, an unbelievably helpful ISP